Imam Bayildi is a a fantastic dish to serve during the summer months. It makes a great addition to the mezze or tapa table.
Estimated reading time: 6 minutes
What is Imam Bayildi?
Imam Bayildi means "the Imam fainted, or swooned". It's a classic Turkish zeytinyağlı (olive oil) dish of soft eggplants, filled with a delicious dry, slow cooked stew of onions and capsicums (bell peppers).
Zeytinyağlı dishes or "olive oil foods", are vegetables slow simmered in a whole lot of olive oil (don't worry, not here!), resulting in deliciously soft and full flavoured vegetables. They can be eaten warm but are also very popularly served at room temperature as part of a mezze (appetisers, canapés, etc).
The origins of Imam Bayildi are shrouded in legend. Did the imam faint from sheer bliss upon being served this dish by his wife? Or did he pass out in horror when his olive oil heiress confessed to the copious amount of oil that went into the making of this dish?
I like to think that the reason was one of utter joy! And I think you'll agree with me as you bite into the soft, baked aubergines overflowing with the delicious filling of fried onions and capsicums (bell peppers).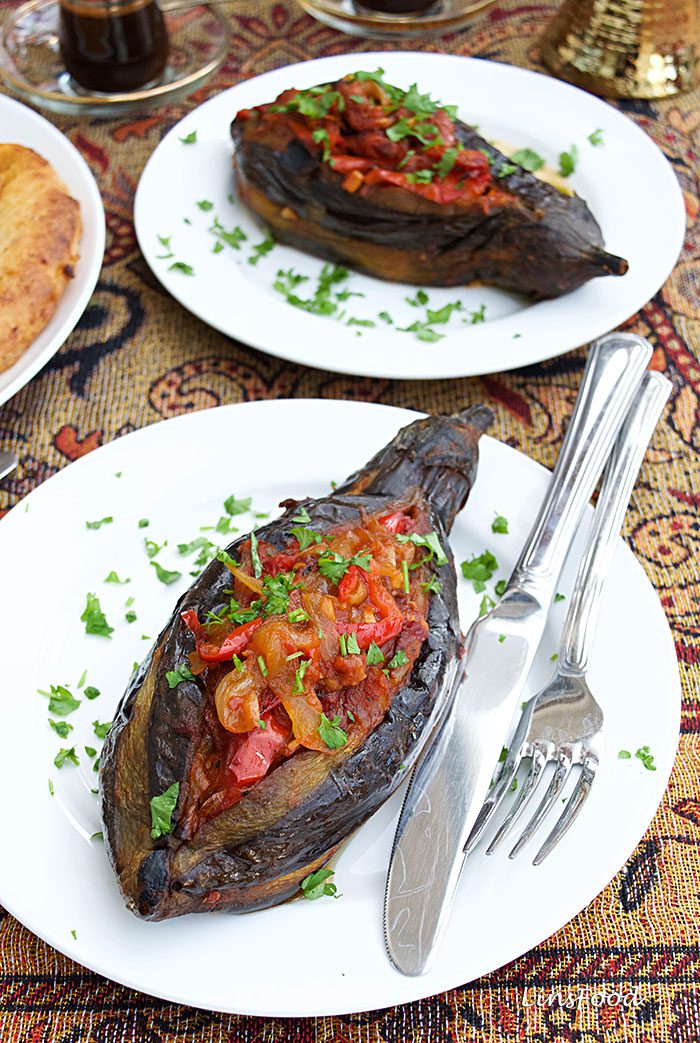 As with all traditional and much loved dishes, there are many ways to cook this recipe. And, there are also variations of Imam Bayildi in certain parts of the Mediterranean and Balkan area, as well as the Middle East. In fact, the Greeks consider this dish theirs.
Traditionally, the aubergines are stuffed with onions, peppers and garlic, and then simmered on the stove in a combination of olive oil and water, until the aubergines are cooked and soft.
However, these days, it is also not uncommon to bake the stuffed aubergines, cutting down drastically on the amount of olive oil used. And that's what we are doing today.
What I am also doing, is giving you a different way of serving them, canapé style, see above. Imam Bayildi is meant to be a starter or part of a mezze (appetiser spread), so some years ago, I converted the look and made the servings much smaller, with the filling on individual discs of eggplants.
I was in Istanbul again recently, and despite the trip only being a long weekend for a wedding, found the time to enjoy some locally made Imam Bayildi, as well as my other Turkish favourite, Hünkar Beğendi (The Sultan's Delight), a dish of lamb stew on a bed of swoon worthy, eggplant-cheese sauce:
Making Imam Bayildi at Home
Imam Bayildi does take a little bit of effort in cooking, and there are a few steps to the recipe. However, it can be made the day before, and served as is, no heating required, the next day. So I love making it for parties. To give you an idea, this is what we'll be doing:
Peeling and salting the eggplants
Cooking the onion and capsicum filling
Browning the eggplants
Cooking the eggplants in the filling on the stove
Filling, then baking the stuffed eggplants
Let's take a slightly closer look at some of those steps mentioned above. Recipe is in the recipe card at the end of the post.
Step 1 – Peeling and Salting the Eggplants for Imam Bayildi
These days, eggplants don't really need to be salted anymore but I find that soaking them in salted water with lemon juice, helps to season them, so I never skip this part.
Medium sized eggplants are perfect for this recipe, by the way.
Step 3 – Browning the Eggplants for Imam Bayildi
Traditionally, the eggplants would have been fried with olive oil, and also, then simmered in a mix of water and oil. But you know eggplants are sponges, don't you? Can you imagine how much oil you would need?
So all I do, lightly brown them with 1 tablespoon of olive oil, in a non stick frying pan. Non stick allows you to cook with little oil. An optional step, is also charring the aubergines very quickly on the flame, as we would when making Baba Ganoush. This extra step lends a lovely smoky flavour to the dish.
Step 4 – Cooking the eggplants with the filling
Step 4 is something I do to ensure that the eggplants are fully cooked, and more importantly, almost meltingly tender. I am not a fan of "sturdy" eggplants that have to be bitten and chewed. I'm sure you know what I mean.
Many of the recipes I see on Imam Bayildi don't give the eggplants enough time to cook. Perhaps these people are happy with meaty and tough textured eggplants, and maybe even prefer them that way. I love being able to just bite through my aubergines.
So to that end, I add the eggplants to the onion and capsicum stew, giving them an additional 20 minutes of cooking time. Skip this step, and you will end up with semi dry, baked eggplants at the end of the recipe.
Make Ahead
In my opinion, this is best when left overnight, for the flavours to develop, and for the eggplants and filling to become a complete dish.
Just cover with clingfilm and leave on your kitchen counter overnight. No need to reheat before serving.
How to Serve Imam Bayildi?
You can serve it:
as part of an appetiser spread,
as part of a buffet, a summer party table or a barbecue always works
take it on picnics,
and most definitely, serve it as a starter, on a small bed of greens.
Ready to see what caused the Imam to faint?
If you like the recipe and article, don't forget to leave me a comment and that all important, 5-star rating! Thank you!

And if you make the recipe, share it on any platform and tag me @azlinbloor, and hashtag it #linsfood.

Lin xx
Imam Bayildi (Turkish Stuffed Aubergines) | Vegan Turkish Recipe
Imam Bayildi is a classic Turkish zeytinyağlı (olive oil) dish of soft eggplants, filled with a delicious dry, slow cooked stew of onions and capsicums (bell peppers).
Print
Pin
Add to Collection
Go to Collections
Ingredients
1

heaped Tbsp

salt

juice of ½ a lemon

a large bowl of cold water

4

medium aubergines

eggplant

4

Tbsp

EV olive oil
Filling
1

large onion

4

garlic cloves

2

red capsicums

bell peppers

1

Tbsp

EV olive oil

200

g

chopped tomatoes

1

tsp

sundried tomato paste

1

tsp

sweet smoked paprika

1

tsp

dried oregano

½

tsp

salt

½

tsp

white sugar
Instructions
Preparing the eggplants
Add the salt and lemon juice to the bowl of cold water, stir and keep handy for the eggplants.

Partially peel the eggplants, giving them stripes, as you see in the images. Leave the stems on. As you start to peel at the base, because of the smoothness of the eggplants, you may need to "dig in" ever so slightly with the peeler by moving it left to right, to allow the blade to get stuck into the eggplant skin.

Once peeled, take a sharp knife, and create a pocket in the eggplants, by cutting a slit in each aubergine, starting about 1cm (1/2″) from each end. Don't cut all the way through, you just want to create a pocket for the filling we'll be making.

Place the partially peeled eggplants into the bowl of salted cold water. Place a plate over the eggplants in the water and weigh down with a can of food. This step is to ensure that all the eggplants are fully submerged. Leave to soak for 20 minutes while you get the other ingredients ready.
Making the filling
Halve, then thinly slice the onions. Finely chop the garlic. Halve the capsicums, remove the seeds, then thinly slice them into strips.

Heat 1 Tbsp of the olive oil on medium heat, in a large frying pan or casserole dish, and fry the onions and capsicums (bell peppers) for 5 minutes, stirring frequently.

Ad the garlic and fry for 1 minute.

Add everything else: the chopped tomatoes, the sundried tomato paste, paprika, oregano, salt and sugar. Stir and bring to a boil, then reduce the heat to low and simmer, covered, for 20 minutes.
Frying the eggplants
When the eggplants have had their 20 minutes (while the filling is cooking), drain and rinse them in cold water. Then pat dry.

Take 2 Tbsp of olive oil and, using your fingers, rub and gently massage the oil into the 4 eggplants. Set aside.

OPTIONAL STEP: Turn your gas fire on medium. Using a pair of tongs, lightly burn the eggplants on the fire for a few seconds each side. Do one eggplant at a time. You just need a slight char of the skin, I love this extra step for the smoky flavour it gives me. You can skip this and start with the next step.

Heat a large non stick frying pan on high heat and add 1 Tbsp of olive oil. Place the eggplants in the pan, 2 at a time, if need be, and brown on all sides. You will need a pair of tongs for this, to turn the eggplants around, and even hold them down so all sides can get browned. If doing 2 at a time, you will need 1 more Tbsp of olive oil for the second batch.

If you've got your timing right, the filling of onions and capsicums should just about be at the 20 minute mark. Gently, using the tongs, lift each eggplant and settle it in the filling on the stove, wiggling slightly, to sink the eggplants in.

Cover, and cook on low heat for 20 more minutes. This step is crucial, as it cook the eggplants fully, and they will eventually be meltingly tender at the end of the next step. If the filling it drying up, add 60ml (1/4 cup) water, and gently agitate with a ladle, to mix.
Baking the Imam Bayildi
Phew – last step! Turn the oven oven on to 180˚C (350˚F/160˚C Fan).

Now, get a baking dish that will snugly hold all eggplants, and lightly grease it. GENTLY pick up the eggplants, one at a time, and place in the baking dish.

Very gently, prise open the pockets we created earlier, and fill them with the filling, using 2 teaspoons. Fill them up to the max, overflowing, if you like, for a rustic look. I usually pile the extra filling all around the aubergines.

Cover with a foil and bake in the oven for a total of 45 minutes. Remove the foil after 20 minutes, for a drier and slightly brown top. Many people I know just leave it covered all the way.

Garnish with parsley and serve.
To Make Little Canapés of Imam Bayildi
Slice the aubergines in 1cm (1/2″) thick discs.

Heat 1 Tbsp of olive oil on high heat in a non stick frying pan.

Brown the eggplant discs, about 2 minutes each side. Don't overcrowd the pan.

Cook the filling as in the main recipe.

Place the eggplants in a baking dish.

Top the eggplant discs as in the video, about 1 heaped teaspoon per disc.

Cover with foil and bake for 45 minutes at 180˚C (350˚F/160˚C Fan). Remove the foil after 30 minutes.

Garnish with parsley and serve hot or at room temperature.
Notes
A lot of the total time is hands off time, so it isn't as much work as you might think!
Nutrition
Calories:
321
kcal
|
Carbohydrates:
38
g
|
Protein:
6
g
|
Fat:
19
g
|
Saturated Fat:
3
g
|
Polyunsaturated Fat:
2
g
|
Monounsaturated Fat:
13
g
|
Sodium:
497
mg
|
Potassium:
1349
mg
|
Fiber:
17
g
|
Sugar:
22
g
|
Vitamin A:
2325
IU
|
Vitamin C:
98
mg
|
Calcium:
84
mg
|
Iron:
2
mg